Muse for Teams beta
🚀 Muse for Teams is now in open beta! It includes a redesigned UI, board zoom, a connection tool, comment threads, board URLs, built-in planning templates, a sample workspace, and more.
Muse for Teams is a canvas for planning and strategy. Use it with your team for weekly planning, roadmaps, project proposals, strategy, and retrospectives.
We believe that great work starts with an inspiring plan. That's why Muse for Teams isn't a project management tool, but instead an infinite canvas where you can combine text, ink, images, and more in a freeform space. It's for thoughtful leaders and small creative teams who want to develop ideas together and inspire their work.
Over the last six months, the alpha version has been tested by around fifty teams. We've been hard at work incorporating the feedback; here's all the improvements we've made during that time.
App improvements
Muse for Teams rethinks core parts of Muse to make it more approachable for new users, and more powerful for advanced users. While Muse was first introduced for the iPad, this new version is designed for many users who have a Mac as their primary work computer.
New toolbar persistent on iPad and Mac for quick access to all content types, including text and ink.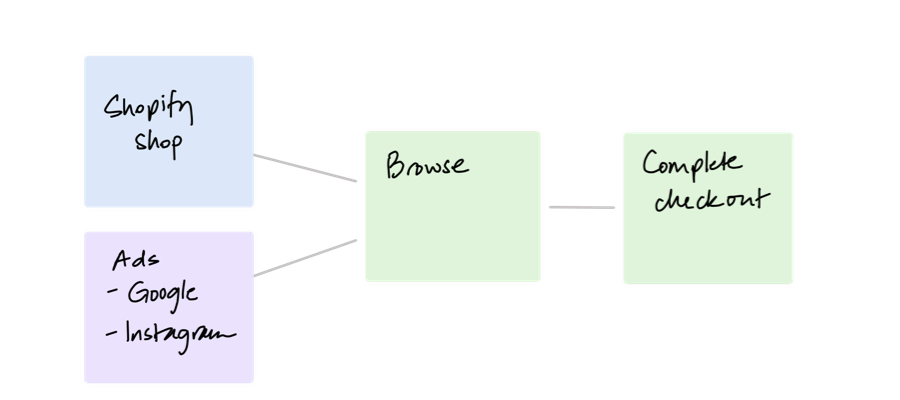 Connection tool to draw lines between cards for visualizing flowcharts, diagrams, and processes.
Board zoom lets you pinch to work at any scale, with fast switching between fully zoomed in and fit-to-window.
Ink on Mac brings the Muse ink toolkit to your Mac for freehand arrows, lines, boxes, and highlights anywhere.

Collaboration
Muse for Teams includes collaborative features you may be familiar with from other multiplayer tools.

Invite your whole team to the shared workspace — allowing them to view, edit, and add boards.
Follow team members during live sessions as they move between boards.

Templates and sample workspace
Muse for Teams now features an all-new onboarding experience. The person who creates the team will begin their Muse experience in a sample workspace based on a fictional backpack design company called Pioneer Packs.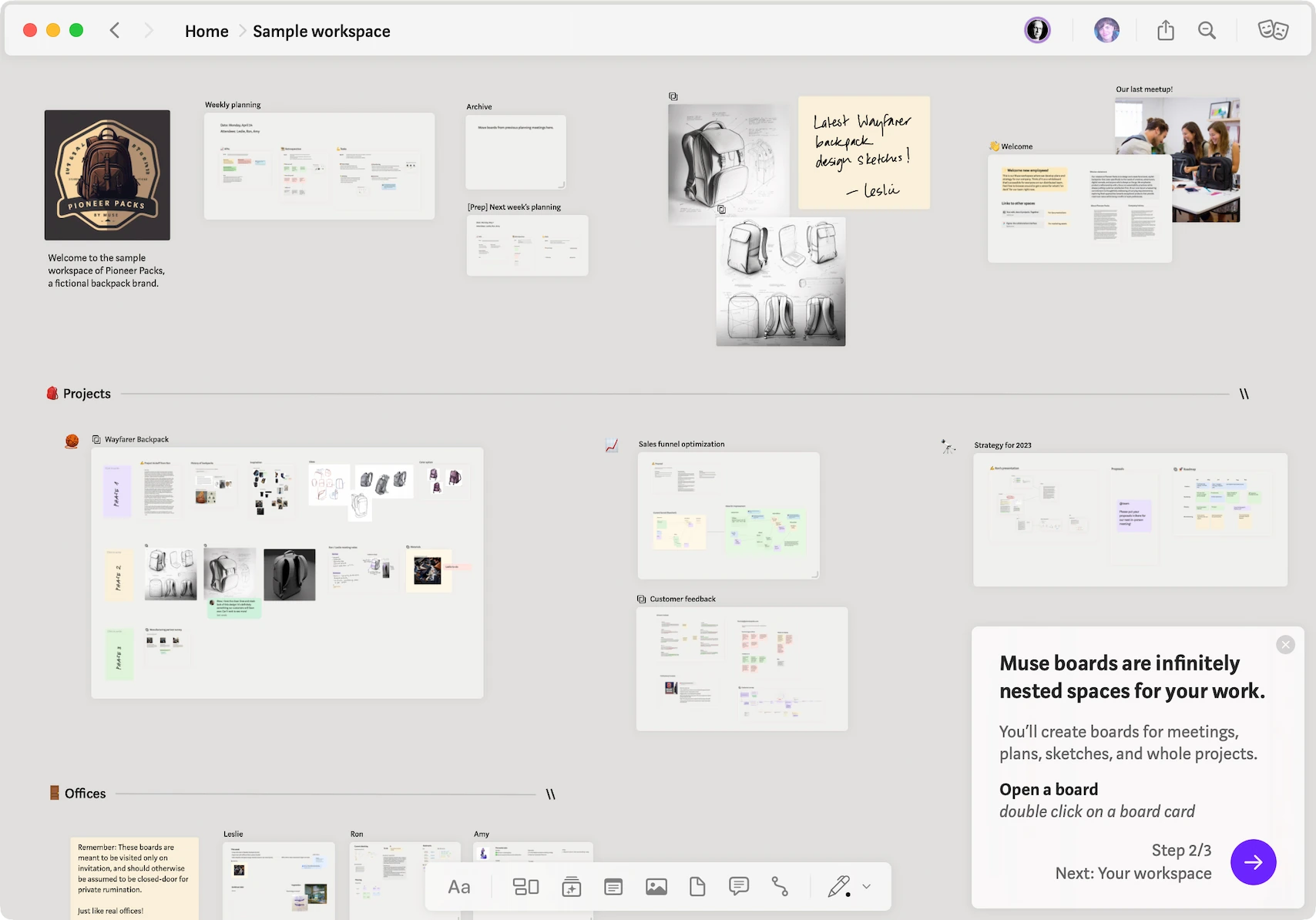 Explore this workspace to get ideas for how your team might conduct planning and strategy sessions in Muse. Then, when you're ready, head out to your team's home space and start setting it up to your taste.
Each new user will also go through a short onboarding flow to introduce them to the core concepts and navigation features of Muse.
Once you're ready, our new templates let you get started right away with boards for project proposals, kickoffs, weekly planning, and roadmaps. We will continue to add templates based on your feedback.
A focus on planning
Looking at the sample workspace and templates, you'll notice a uniting theme: planning your team's work.
Through the alpha process, we've discovered that Muse for Teams is at its best for planning-related tasks like sketching out a project proposals or collaboratively developing a roadmap. So we're emphasizing these as the starting place for your team's use of Muse.
Read more about our perspective on planning in Against boring planning.
What's next
Looking forward, we're continuing to add major new features to turn Muse into the best place for collaborative planning of any kind.
Workspaces with permissions will let you create a home for each project or team within your company.
Search will let you quickly navigate and reference content.
Notifications and mentions will make Muse even more useful for asynchronous planning.
More text formatting options will enable you to edit full text documents within Muse, including lists and bold / italic styling.
A rebuilt iPhone app will give you seamless access to your planning on the go, and bring Muse to even more people on your team.
Join the discussion in our community to help shape how Muse for Teams evolves.
Muse as a personal tool
We think it's important that you be able to use Muse for your private thinking and for collaborating with colleagues—with the ability to move content between private and shared boards freely.
During the beta, Muse for Teams is a separate app (installed via TestFlight). You can run it side-by-side with the personal Muse app (installed via the App Store). It's easy to bring individual boards or your entire workspace from one to the other: just right click → Export board as → Muse bundle, then drag the resulting file into the other app.
Once the beta is complete, these two apps will unify. The resulting Muse app will include separate spaces for personal and team use.
Thanks to our alpha testers
A huge thank-you to all of you who took the time to fill out our survey on multiplayer ideation. Even bigger thanks to those of you who participated in onboarding over video chat and gave us your feedback on the alpha.
Some quotes from our alpha testers:
Best thing for generative thinking with my cofounder when we work remotely.
— Sam Stephenson, Designer/founder,
Granola
Wicked retro experience—this blew every other tool out of the water. We had a Zoom gallery view on top, Muse on Mac on the bottom.
I love Muse and use it for everything: project brainstorming, bigger sales activities, team meetings, business & product development, and event/presentation planning.
– Aleksi Komu, Director of Business Development,
ThingLink
Try it today
Give it a try! Then share your feedback with in our community or via hello@museapp.com.
Join the beta →